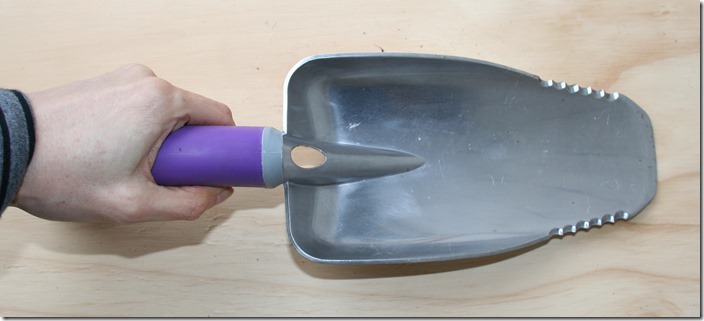 As a landscaping professional, I have very little patience for inefficient tools. That's why I can never understand why so many people favor a tool as insipid and useless as a trowel. Do you need a weeding tool, or something to plant bulbs or tiny plant starts with? If so, a sharp, straight-bladed hori hori is a much better choice. Do you want a garden scoop for filling planters with potting soil and planting containers? If so, a soil scoop is the tool for you.
Here, I've tested and compared three standout brands of soil scoop. They each have differences such as handle style, size of scoop, and the features of the scoop itself, such as whether the blade is serrated or smooth, or whether it has a sharp hook to slice open bags of potting soil.
Before I give you a rundown of the differences so that you can tell which one will be best for you, here are some photos of my favorite three soil scoops, both front and back, so you can get an idea of their comparative sizes and shapes: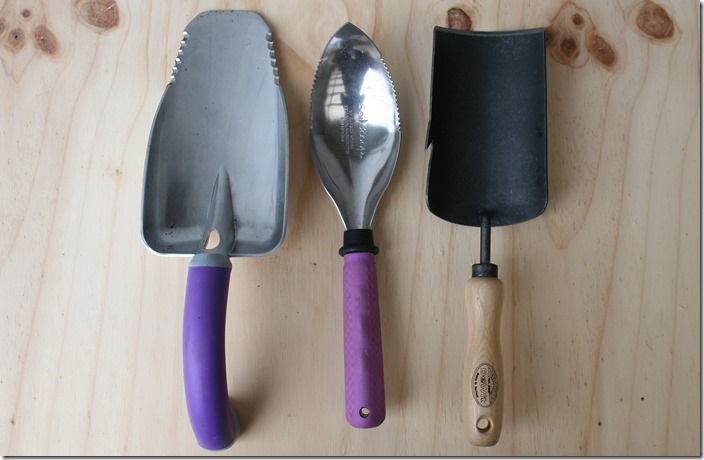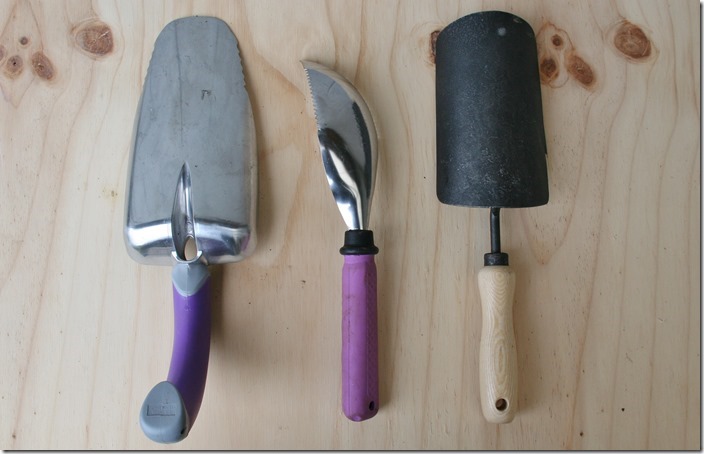 Left to right – Radius Garden Scooper, Garden Works Soil Scoop, DeWit Potting Scoop.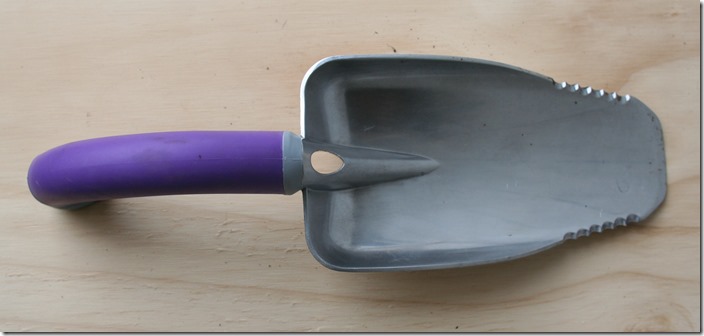 I've long been a fan of Radius Garden's tools, because they are one of the few companies which pays close attention to ergonomics. I work with such a wide variety of people – gardening professionals, older people, and passionate gardeners with disabilities – and everybody (even the 20-something guys on my landscaping crew) seems to appreciate the wide, comfortable, nonslip grip of the Radius Garden line. The grip on their hand tool line is particularly helpful for those with arthritis, because you can hold the tool in a variety of ways.
This scooping tool has the widest scoop of any of the brands I tested (so it holds plenty of soil), yet has a shallower dish than the DeWit brand, making it easier to maneuver when planting. It also has gently serrated sides, so you can open that bag of potting soil or score the roots on young starts. Though I personally would've placed the serrations a little closer to the front of the scoop to make it easier to open bags of potting soil (it takes a little doing to git' er done), I'm guessing the manufacturers were trying to make the tool a little less likely to cut us, which I'm sure is a worthy goal, my own penchant for lethality in tools notwithstanding.
Features of the Radius Garden Scooper:
Best multipurpose tool, since it is has both a large scooping surface, as well as a somewhat shallow dish which makes it easier to maneuver when planting.
Smooth, stainless steel surface is unlikely to rust, and the shiny surface doesn't pick up caked soil.
Serrated corners can cut through tangled roots when planting, as well as open bags of soil or amendment. While the serrations aren't as deep as I'd like, they're still about 80% effective
Fat, curved grip is nonslip, provides great leverage with little wrist strain, and can be held in a variety of ways, making it my top pick for anyone with carpal tunnel syndrome or arthritis.
Comes in a variety of colors, such as lime green, purple (squee!), orange, yellow, hot pink, and turquoise. I fail to see why anyone would buy any color except purple, but to each their own, right?
Obviously constructed to last. While Radius Garden is a small company, they've been remarkably good about responding to customers and providing great service. They stand behind their tools, which means a lot to me.
Overall, this is the best multipurpose potting scoop because the shape makes it easy to do multiple types of task. The stainless steel blade/ scoop is sturdy enough to handle gardening in actual soil, so it can be used in vegetable beds as well as simply container plantings. And the extra leverage provided by that comfortable handle makes it a pleasure to use.
Best sources to buy the Radius Garden Scooper: Amazon.com, RadiusGarden.com

This scoop is the best one for impatient gardeners. I don't bother scooping potting soil out with a scoop, I usually dump it directly out of the bag and then sweep up afterwards. That said, it is really nice when doing container gardening to have a tool that's meant to hold soil back as I tuck in potted plants, and here this small and easily maneuverable potting scoop fills the bill.
I love the sharp tip, which lets me scoop and scrape with ease. The serrations on the side are small but deep enough to be highly effective at cutting out rootbound plants, and the depth of the scoop itself the shallow enough that it's honestly more like a scary trowel than a soil scoop. This suits me just fine, as I like to use my soil scoop in vegetable gardening and other applications where the soil isn't always as soft as in container gardening.
Features of the Garden Works Soil Scoop:
Streamlined scoop design great for fast gardeners, but scoop itself holds a minimal amount of soil.
Pointed tip makes it excellent for scoring rows in vegetable gardens, using as a dibble for planting seeds, and scraping away stubborn baby weeds.
Serrations are sharp and very effective.
The handle is available in both a rubberized nonslip grip, and a lacquered wood finish which has a slightly more bulbous, rounded shape. Each has its advantages; I love the nonslip grip of the colored ones, yet the shape of the wooden one fits more naturally in my hand.
Handles are available in natural birchwood, purple, yellow, blue, pink, red, and a kicky lime green.
Unfortunately, the company has been unresponsive to customer questions and complaints. Worse, a few of their tools have only lasted me a year or two of professional use, as the handle sometimes comes separated from the working end.
Overall, if you're an impatient gardener like myself, and don't really need the scooping qualities of a soil scoop so much as the ability to do container gardening quickly and effectively, this is probably your best shot. That said, given my experiences with poor customer service and a few tools that haven't lasted, I have to give the caveat that if you buy it, there's a risk it won't last. Still, this is the scoop I personally reach for first, and I'd have no hesitation purchasing it again.
Best sources to buy the Garden Works Soil Scoop: eBay.com, Amazon.com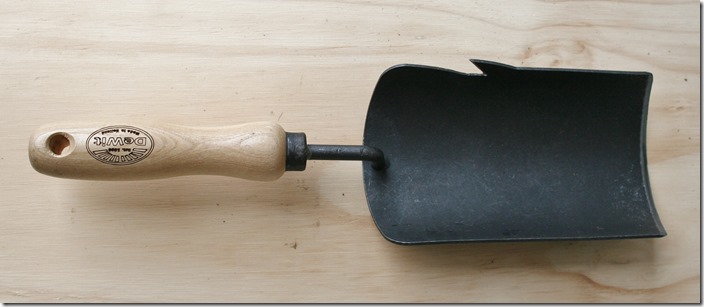 Looking for old world craftsmanship in your gardening tools? Longing for those days when hand-forged steel and strong wood like European ash was a given, and you knew you'd purchased a tool you could pass on to your grandkids? DeWit is a company in Holland that's been around since 1898, and they stand behind their tools with a lifetime guarantee.
This scoop has the biggest volume for actually scooping potting soil of any of the brands I've tried, because of the tall, curved sides. If you mix your own potting soils, fill a lot of vertical gardening wall pockets, or otherwise consider the scooping ability of potting scoops to be primary, this is definitely the scoop for you.
The sharp notch on the side is the most effective implement for opening potting soil or amendment bags – far better than serrated edges or even using my hand pruners. And the wooden handle, while not ergonomic by modern standards, has a thoughtful and comfortable curve to it which allows me to feel at one with the tool when using it.
Features of the DeWit Potting Scoop:
Made of solid, nearly indestructible materials – carbon steel and European ash, and has a lifetime warranty.
Best scooping capacity of all the scoops I've tried, however the deep curve of the scoop makes it less useful as a multipurpose tool.
Notched edge is superior for cutting open bags of potting soil or amendments, however if you plan to use the scoop for container gardening you should be aware that there is no serration on the sides for scoring tangled roots.
Handle has a comfortable curve that feels natural in my hand.
Overall, if scooping capacity is key for you (you mix your own potting soils, do a lot of vertical gardening, or just scoop a lot of soil or amendments by hand), this is the best soil scoop for those uses. However, since it doesn't have serrations, and the scoop is so deep, it's not the most effective multipurpose tool.
Best sources to buy the DeWit Potting Scoop: GardenToolCompany.com, Amazon.com (not currently carrying), Garrett Wade (not currently carrying)