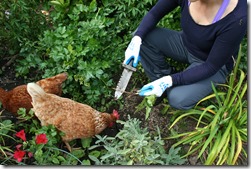 The humble trowel has taken a backseat in recent years to its sharper competitor, the hori-hori or Japanese soil knife. Because my landscaping employees lose their soil knives more often than I'd like, I've had a good excuse to try out all the different brands out there and get a feel for which ones perform the best, are most ergonomic and comfortable, and most importantly, which ones truly last (as long as they aren't lost in the compost pile).
Because the world of hori-horis is constantly growing, I'll update this post every time I test a new version.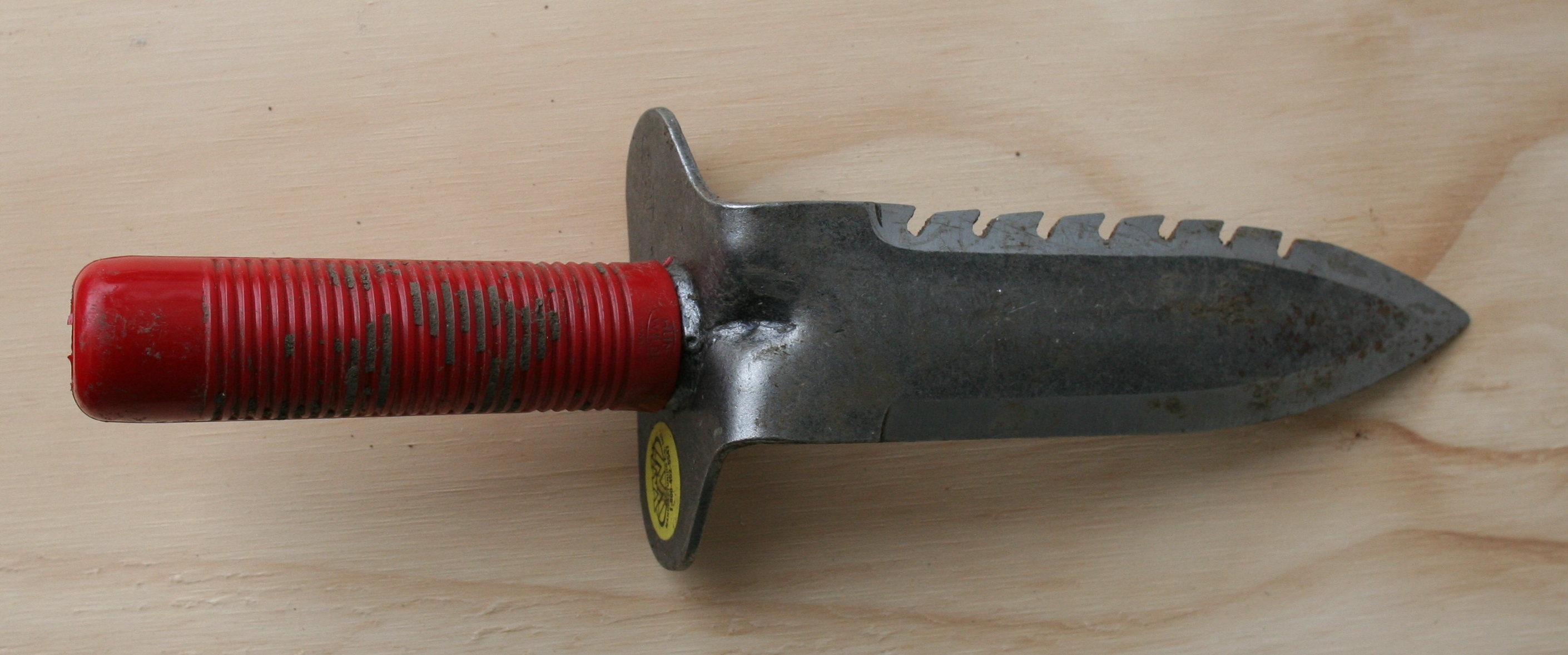 This rugged soil knife has become the top favorite for myself and my landscaping crew. Strangely, I didn't like the looks of it at first glance. That rectangle of metal between the blade and the handle (they call it a "hand guard") looked like it was going to get in my way. And before I actually tried it, I didn't care for the wide teeth on the blade as they looked like they'd snag on things and be hard to sharpen.
Boy was I ever wrong. I'm glad I tested it, because from day one, it became one of those tools everyone on the team reached for. I had to fight to get my original back long enough to photograph it.
There are five elements which make the Pro Gardener's Digging Tool the best soil knife out there:
· The blade is offset, which gives great leverage when weeding or digging. Instead of having the blade shoot straight out from the handle, it is offset from the midline of the blade by about 1.5 inches. You wouldn't believe how much easier it is to pop weeds out when your tool's giving you extra leverage.
· It has a non-slip ridged grip, and the red handle color makes it easy to find in the garden if you drop it.
· The entire handle is steel with a plasticized coating, so it's unlikely to come apart or break like pretty much every other soil knife will (in time).
· Those wide teeth I didn't like the look of? Man was I mistaken. The downward angle of the teeth lets the blade slice into sod or soil like it's nothing, or cut away the tightly-wrapped roots on a rootbound shrub when transplanting. You can sharpen the teeth as well, it just takes a little more effort than with the standard Japanese hori-hori with a straight blade.
· Lastly, the hand guard that I thought would annoy me has actually saved my knuckles on more than one occasion, and my foreman says that he liked how the hand guard let him wedge his hand on the handle really good so he could work more vigorously without his hand slipping off.
It is also available in a left-handed model with the serration on the left side. This allows left handers to work without the serrated part snagging on weeds when you're trying to move quickly.
The verdict:
If you're a professional landscaper, serious gardener, or love having the best tool available, this is my pick. It's built solidly, has a ridges nonslip handle and that offset blade for leverage, and will let you bust through a variety of tasks with little effort. It is made of nearly-indestructible carbon steel (which on other brands of hori-hori can feel heavy and clunky), but this one still manages to feel lightweight and effortless to use.
The only downside to this tool is the price. At about $60 you'll be pretty grouchy if you lose it in the compost, but luckily the red handle is pretty easy to find in the garden. Plus, it comes with a sheath that you can wear on your belt or attach to your gardening bucket.
Buy the pro gardener's digging tool from: Garrett Wade




These four brands of Japanese soil knife are identical as far as I can tell, varying only in the brand name stamped on the blade (GrowTech

is the one brand of stainless steel digging tool I would avoid – more on that below). The best thing about this type of soil knife is its simplicity. This is an effective, inoffensive hori-hori that everyone will love. The stainless steel means it is lightweight so less stress on your wrist, the blade has a smooth surface that slices through even compacted clay soil with ease, and it will never rust even if you mistreat it (I have tested this claim – look at that ancient, seven-year-old hori-hori above – still kicking!). The only thing I don't care for is the rectangular shape of the handle. It's perfectly comfortable, but not ergonomic, so it's not the 100% best choice for pros.
The blade itself has a handy little ruler stamped on one side so you can plant bulbs at the right depth, and both the straight and the serrated blade edges are easy to sharpen as needed. The metal of the blade continues into the handle by 2.25″, and while I kind of wish the metal continued the length of the handle for sturdiness, I have to admit that the blades have never come loose in many years of using these tools professionally and having my crews use them full-time. The blade is held onto the handle with two rivets. (If you tend to use your hori-hori as a hammer, you should be aware that these rivets will eventually come loose with such treatment. Really, get a freakin' hammer and use your hori-hori as intended!)
If you're in the market for a Japanese hori-hori, you may have noticed there are two different options for the metal. There is carbon steel, which is heavy and black, and stainless steel, which is lightweight and silver. Here's the difference between the two:
Stainless steel, my favorite, is:
· Shiny silver
· Lightweight (less likely to cause repetitive stress injuries if you garden for a long time)
· Smooth (muck and mud do not stick to the blade when weeding in winter)
· Paired with a wood that has a smooth finish on it so it doesn't collect mud either
· Easy to sharpen
· More likely to bend if you use it as a pry bar or hammer (but my Joshua Roth, Nisaku, and Green Top hori-horis have never broken or bent under daily professional landscaping use)
Carbon steel, which I hate in this style of hori hori, is:
· Matte black
· Heavy (more likely to cause wrist injury if used for a long time)
· Rough and has a porous-feeling surface which collects mud and feels harder to push into the soil
· Paired with a porous, unfinished wooden handle which collects mud and is difficult to clean
· Harder to sharpen
· Unlikely to bend or break even if used as a hammer or pry bar
The verdict:
Though this isn't my favorite hori-hori (I prefer the Garrett Wade one above with the rounded handle and powerful offset blade), if you're a hori-hori newbie, this is a good one to start with, as it's a mid-range price (about $35) and you won't find anything to dislike about it. It's a comfortable tool that will last a long time. Spray paint the handle a gaudy color so it doesn't get lost in the garden.
Buy the Joshua Roth/ Nisaku/ Green Top/ Tomita hori-hori from: Amazon.com, or a second seller at Amazon.com (prime)



This is the biggest ripoff going around the garden tool world right now. The GrowTech hori-hori claims to be stainless steel, yet rusts profusely at the first sign of moisture, has a cheap blade that is bent (bent!) to fit properly into the handle, and has a worthless glaze on the wood which wears off in spotty patches. I have managed to break two out of three of the ones I have owned in less than 18 months, and the last is so rusty (see above) that I'd feel like a bad boss handing it out to one of my employees to use.
The problem is, GrowTech hori-horis look like the higher-quality Joshua Roth/ Nisaku/ Green Top hori-horis from a distance. Worse, they're sold under a number of different names by companies that I usually think of as reputable, such as Gardener's Supply and ARS. The way you can definitively tell a junky GrowTech one is by looking for a little bend or fold in the metal where it hits the handle. It's hard to see that in the rusty one above, but if you compare the shape of the GrowTech to the good ones shown above – look right in the spot where the blade meets the handle – you can avoid being fooled by this cheap imitator.
The verdict:
Don't do it.
Mock the GrowTech hori-hori at: Amazon.com




I actually really love this serviceable soil knife, especially given the reasonable mid-range price tag (about $28). It's well made, long-lasting, and the handle is pleasantly rounded for a comfortable grip. I also like the style of the serration, which is jagged and sharp and could cut a tomato into slices. It's very effective at dividing plants and cutting small roots.
Unfortunately, this tool has a fatal flaw for most people. It's that ridiculously short handle! When held as intended using the thumb rest, it doesn't even come to the end of my palm, so I found myself using a disproportionate amount of force trying to keep a strong grip on the knife as I worked. Not good. My other quibble is a very small one: you need to buy the sheath separately, if you want one.
Highlights:
Non-rusting stainless steel
Lightweight, so less wrist strain
Jagged "dual cut" serration cuts small roots easily on the up- and the down-stroke, and is sharp enough to cut you, which I consider a bonus (I wear gloves when I work, so a sharp tool is all benefit and no pain)
Inch markers on the blade, for bulb planting
Orange handle is easy to find in the garden, and has a comfortable, ergonomic shape (if you have tiny hands)
A hole in the handle lets you attach a carabiner or cord to the handle
Twine-cutting notch in the handle, which is somewhat effective at the job indicated
The verdict:
It's too bad that an otherwise well-designed, low-priced tool has been crippled by a disproportionately short grip area on the handle. I wear a small in gloves, and still found the handle so short that I could not use my palm to steady the handle as I worked. However, if you have petite hands, this is an awesome model that will fit you great and be a long-lasting, comfortable choice.
Buy the Leonard deluxe stainless steel soil knife from: Amazon.com or A.M. Leonard

While I never personally adored using this soil knife, this was the standard soil knife for my landscaping crew for some time, because the tool is dirt cheap ($8) and I never felt compelled to give a lecture when they inevitably got lost. They also have a fat grip that is comfortable and reduces wrist strain.
What I don't like about it is the dandelion fork at the tip. How often do you need that dandelion fork, and how often does it just get in the way? The dandelion fork part isn't even all that effective, especially in lawns where the fork catches in the grass and won't push down. I find myself using more force with this tool just because of that forked tip.
It's also not going to last a lifetime. While they don't rust if kept dry and used often, the blade is made of cast aluminum with a rust-resistant coating on it. That's a far cry from either stainless or carbon steel. And the metal from the blade doesn't extend all the way through the handle, as you'll find when it eventually breaks.
The verdict:
For $8, if you're the type of person who loses your tools in the garden and doesn't want to have to cry about it, this is a good way of trying out a soil knife and seeing if you end up using it enough to justify the cost of a better one. Just don't say I didn't warn you when you find yourself annoyed by that dandelion fork tip.
Buy the Fiskars big grip soil knife from: Amazon.com