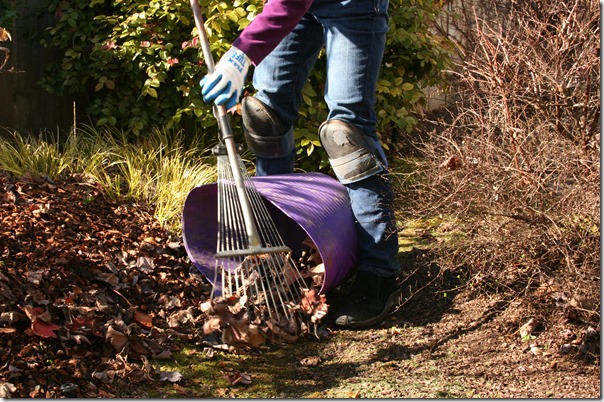 The humble bucket is many a gardener's best friend, because it's easy to pop a few hand tools into it, bring it into the garden to catch weeds and dead flowerheads, and even water in new plants.
Yet for all their versatility, regular buckets have a lot of flaws. The handle is uncomfortable to carry and gets in the way when dumping green waste, it's hard to toss weeds into the small opening, and the sharp edges of the bottom can give you a nasty bruise if banged against your shin.
That's why I'm so in love with the Tubtrug garden bucket. These colorful tubs have the wide opening and rounded handles that ordinary buckets lack, and they're made of a bendable rubberized plastic that makes them adaptable to a number of garden tasks.
A multitude of uses
Fall leaf pickup: In autumn, turn the Tubtrug on its side and rake leaves from the lawn or patio directly into the bucket. The flexible sides conform to the shape of the ground, yet are stiff enough to stay open, making leaf collection a snap.
Watering plants: Clasp the handles together to create a pouring spout so you can water plants without sloshing. The tub is made of food-grade plastic so it's safe for organic and veggie gardens.
Nursery buddy: The large Tubtrug holds five one-gallon plants, and keeps them from tipping over and getting damaged on the car ride home.
Mulching: The pouring spout makes it simple to add wood chips in between existing garden plants. Hold the handles together and tip the tub from the bottom to apply mulch exactly where you want it. It's more precise than using a shovel or scoop.
The best thing about this tub is that it's perfectly designed for gardening. The curved handles provide a comfortable grip even when the tub is heavy with weeds or water. The bottom of the Tubtrug is rounded as well, so if you bump it against your leg while carrying a heavy load, you don't end up bruised.
Tubtrugs come in eleven colors (purple! Pistachio! Hot pink!), and a number of sizes. The large size is perfect for everyday gardening, while the medium is right-sized for balcony and container garden cleanup. Because they're UV- and frost-resistant, my Tubtrugs have lasted for over three years of daily professional use and are still going strong.
Buy Tubtrugs here: Amazon.com
 I recommend either the large (10-gal) or medium (6.9-gal) for gardening. The extra-large (19.8-gal) size is so heavy and unwieldy that it isn't fun to haul around.
Review originally published in Fine Gardening Magazine.