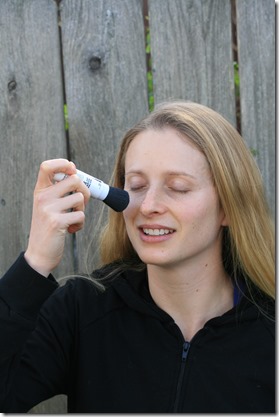 Sunblock may not be the sexiest of topics, but if you've ever turned an unappealing shade of flamingo after gardening without sun protection, you know how important it is.
While garden hats offer the best protection for your face, some of us (ahem) don't really care to have a great floppy thing perched precariously on our foreheads as we garden. Plus, there's the whole bad hair/ hat-head issue. I'm too vain for that!
As for sunblock lotions – well, they're great for arms and legs, but awkward to apply on crinkly spots like ears. And if you're a guy with thinning hair, there is no way you're rubbing some greasy, perfumed lotion on your head. Am I right?
The solution's an odd one: powdered brush-on sunblock by Peter Thomas Roth
. The Instant Mineral line comes in SPF 30 or 45, and it blocks the full spectrum of UV and infrared rays. And the built-in applicator brush conforms to the lines of your face, making it easy to protect the backs of your ears, creases of your nose, and other tough-to-hit spots.
Because it's not a lotion, it even works great on your scalp. I brush it over the part in my hair to prevent sunburn, and the men in my life use it to cover the thin patches on their heads so they can enjoy a sunshiney day without wearing a baseball cap. If you ignore the fact that you apply it with an applicator brush, it's one of those unisex products that everybody loves. It's unscented, and is invisible once applied.
To use, just retract the applicator brush inside the canister so it picks up some powder, push it out again, and you're ready to roll. I close my eyes and take a deep breath, then slowly breathe out while brushing the powder over my face, ears and that easy-burning Irish scalp.
It lasts for a couple hours of vigorous work. To give it more staying power, just apply a bit of sunblock lotion first, so the powder has a base to stick to.
While it's not meant to cover your arms and legs (it's a little pricy for that!), if you've had issues with burning the backs of your ears, your scalp, or the delicate skin on your face, this is an amazing solution. It's even portable, so you can pop it into your gardening bucket for quick touch-ups outside.
Best source: Amazon.com
(or find similar powdered sunblocks here)
Review originally published in Fine Gardening Magazine.