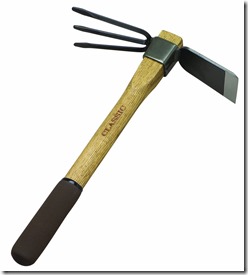 Every gardener has a certain tool that he or she can't live without. Not only that, but lending that special tool to any other person is out of the question; nope, it just isn't done.
Whether you received that tool as a gift or picked it out yourself, it just felt good in your hand the first time you picked it up and held it close. Now the two of you are inseparable. So what is my special tool? Why, the Flexrake CLA105 Classic Flower and Vegetable Tiller,
 which was given to me by my husband.
My husband, who knows nothing about gardening, bought my special tool for me for my birthday about 5 years ago as a random, spur of the moment purchase. He did a wonderful job in picking it out too. I took one look at it, hefted its weight in my hand and declared myself in love. When I asked why he chose that particular tool he just said that it looked like something I would like. It was sharp and wicked looking, he had said with a grin.
It has a high quality steel blade on one end that's carbon and heat treated for strength. It reminds me of a flat axe blade on one end and the other end looks like a finger rake that works out at the gym. This tool could do some serious damage if needed for protection- if I was attacked by a rabid tomato I suppose. At any rate, from then on forward, the Flexrake Flower and Vegetable Tiller became known as "THE TOOL."
Now "THE TOOL", when it was new, had a beautiful shiny hand turned oak handle. The shine is a little dull and well-worn from use now and the bright green non-slip grip is a darker shade of green from dirt and honest sweat. But just because it isn't as bright and shiny as it once was doesn't mean "THE TOOL" has outlived its usefulness. "THE TOOL" and I are still getting broken in as far as I am concerned.
The purpose of "THE TOOL" is for digging, planting or weeding. I have done all three with it and have been remarkably pleased. To elaborate, "THE TOOL" digs deep holes for planting. It goes as deep as you need it to go to make sure the roots of the plant are nestled in the ground. You can tap around the plant gently with the flat blade end after it's in the ground to make sure the soil is firm around the roots. And if you have weeds, "THE TOOL" will dig into the root of the weeds and easily get rid of them with one fell swoop.
What I love about it, though, is what it does above and beyond the call of duty. You have a tough rock which needs prying out? Just stick the end of the blade side against the rock and wiggle back and forth. Then turn it around to the prong side and just see if that doesn't pry it out. I've pulled many a tough rock out of my garden with "THE TOOL." Also, say you have an area that has a tough grass issue that keeps popping up. With "THE TOOL", you can remove the grass and any other bothersome weeds by scraping the sharp end against the grass or weeds and pulling towards you. It rips everything out by the roots, leaving a nice patch of dirt to plant in.
It's also great for relocating spiders by balancing them on the end of the blade and gently placing them elsewhere in your garden. Too, I find that "THE TOOL" is excellent at removing stray leaves which are wedged in between plants and rocks by using the finger rake end. Also if I'm stuck in the kneeling position, as I get older I find this to become more common I hate to admit, it's great to help boost me to my feet by placing the head of it on the ground and pushing upward. "THE TOOL" is truly a multi-task tool.
When I have to eventually retire "THE TOOL", it will hang on my tool shed wall in a place of honor for a job well done. But until then, you'll have to excuse us; we have some digging to do!