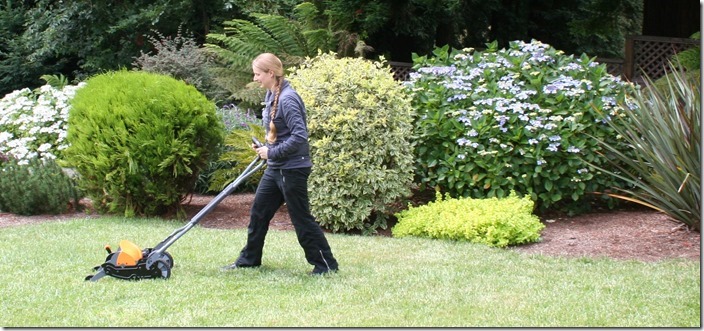 I'm a huge fan of the Fiskars StaySharp line of mowers, and have owned the premium version of this mower, the Staysharp Max, for about two years. It was such a relief to be able to get rid of my old gas-powered mower, which was smelly, noisy, and had such a difficult-to-pull cord that even my brawny other half had trouble getting it started.
Though we'd considered investing in a push mower for some time, traditional reel mowers are hard to push, a bit on the noisy side, and get rusty and funky fast, so they need a lot of maintenance to stay in good shape. This Fiskars line of mowers, by contrast, is quiet enough that I can have a conversation while mowing, and they are made of good enough materials that I haven't had to sharpen mine yet.
While it gets my heart pumping to use, it's more of an aerobic exercise than one that takes muscles or may cause injury. In fact, it's so fun to use that my other half was willing to take on the task of lawn care and mowing! He has neck and back issues but found this an easy and fun way of staying fit and helping around the house.
The benefits of a reel mower are numerous – the blades get a cleaner cut than rotary (most gas) mowers so you don't get brown tips on your grass, they cut the clippings into much smaller pieces so you can leave the clippings without them chunking up on the lawn and looking messy (I can hardly see the clippings and they break down very quickly), and you get a finer look since there are more blades cutting.
Which StaySharp mower to pick?
Because there are three mowers in this line and they scale up in price according to their feature sets, you might think that the right mower for you would seem like a straightforward choice dictated by how much money you have. However, each mower in the lineup has its own strengths and weaknesses built into the design which may lead you to actually prefer one of the lower-priced models.
There are three options: the StaySharp (cheapest), Staysharp Plus (mid-range), and the Staysharp Max (which has more premium features to handle tough situations).
Fiskars StaySharp Mower
The StaySharp is the budget option, and is also the most like a traditional reel mower. It has a rear grass discharge which does sprinkle grass clippings on your shoes. There is a grass catcher available to purchase (link at bottom).
The shield covering the blades in front is good for people who might need to mow close to shrubs and don't want to catch the limbs on the front of the blades. It also prevents clippings from being thrown onto the sidewalk, flowerbeds, or buildings if you approach from the front.
Since the grass catcher is behind the mower in this case, it does not obstruct your mowing view while using it. This is in contrast to the most expensive mower in the lineup, the Max, which has its grass catcher positioned in front of the blades.
The downsides to the regular StaySharp are that it has less power in the gear system so may need a little more strength to push than with the other two, it does not have inset wheels for mowing closer to the edge, and it does not cut as high as four inches like the other models do (it goes from 1.5 to 3.5 inches). Organic gardeners will know that 4 inches is truly an ideal length for preventing weeds and preserving water in the lawn, but 3.5 inches is still better than most mowers (most gas-powered mowers only go to 3").
The verdict: Use this if you have a flat lawn with few weeds (so you don't need power) and you want to use a grass catcher with every mow.
Fiskars StaySharp Plus Mower
The StaySharp Plus has a forward discharge to keep clippings away from users' feet, like the Max. It does not work with a grass catcher, which is fine for most organic gardeners because it is far better to leave the clippings, and these mowers cut the clippings into tiny pieces.
The Plus has slightly larger wheels and slightly more power than the regular version, so can handle more weeds or a mild slope. It cuts from 1.5″ to 4″.
The verdict: This is the budget option for those who don't want a grass catching bag. It has slightly better features than the regular StaySharp, except that the StaySharp is all set up to work with a grass catcher. The Plus is most similar to the Max, and if you have the money, I would choose the Max over this one, as the only advantage to the Plus is the lower price.
Fiskars StaySharp Max Mower (formerly the Momentum Mower)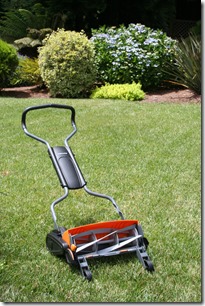 The StaySharp Max has an inset wheel design which gives it a closer cut along the edges of your lawn, and eliminates any areas of lawn that get flattened and then don't get cut. By the time your wheels run over the grass, you have trimmed it. This gives you a better result in the end and makes mowing cleaner and easier to control.
It also has a LOT more power. While I liked using the regular StaySharp and found it a huge improvement over normal reel mowers, the StaySharp Max felt like a dream to run. It's downright airy! You get it going with a little push and the cutting reels turn and turn with little input after that. The chain drive mechanism makes it easier to push in the first place, and then the way the blades keep moving makes it feel as though the tool is making the most of my effort.
The Max has a front-discharge, so does not spray grass on your shoes. However, used with the grass-catcher bag, it can obstruct your view of where you are mowing since the bag sits in the front. If you plan to use the grass catcher every time, you might consider whether the cheapest StaySharp model has enough power for you.
The Max is ten pounds heavier than the other two, which sounds bad but actually makes it easier to get momentum to cut through tougher weeds. It cuts from 1-4″, so it has the biggest range of cut heights. I used it on a slope and found it pretty easy to deal with. My home lawn is bumpy and somewhat weedy and this has no problem, except for very wiry weeds which I just cut with my hedgers or string-trimmer.
The verdict: If you can afford it, this is probably the mower to get. It has WAY more power to it which makes it impressively easy to push. It also has more options (grass catcher, cutting heights), and the features are ones that make mowing more fun. However, if you do plan to use the grass-catcher with every mow and you have a flat lawn with no weeds, the regular StaySharp may be better because the grass-catcher sits in back and doesn't obstruct your view as you mow. Otherwise, the Max is the best mower for eco-friendly lawns.
A caveat on all of the manual mowers
The one downside to every one of these mowers (and the old reel mowers too) is that they won't cut down tall grasses, particularly wiry ones. So you have to keep up with your lawn care and not let it get out of control. A gas mower can chew through some overgrowth, but these just knock it down if it gets really tall and won't do anything to it at all. So if you don't have super-regular lawn-mowing habits, I'd pair any of these mowers with a string trimmer/ weed whacker which can double as an edger and be your backup in case you go away and forget to have your house-sitter mow.
Best sources to buy:
Fiskars StaySharp Mower: Amazon.com

Fiskars StaySharp Plus Mower: Amazon.com

Fiskars StaySharp Max Mower: Amazon.com

Grass-catcher for the regular StaySharp: Amazon.com

Grass-catcher for the StaySharp Max: Amazon.com

Blade maintenance kit for the StaySharp line of mowers: Amazon.com