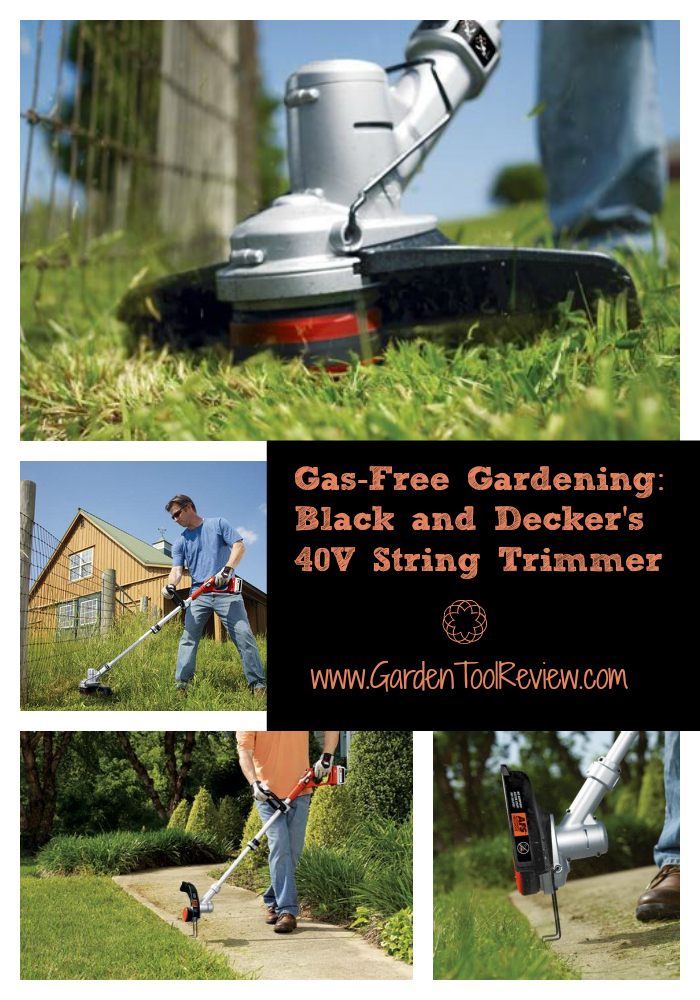 Before I begin my review, I have to preface it with the fact that I do not actually own the Black and Decker 40V MAX Lithium String Trimmer (LST136W) myself. However, if you were to ask my neighbor (who I borrow this weedeater from frequently) he might suggest that the frequency with which I borrow his makes me at least a part-time owner.
I personally feel that this is one of the best cordless trimmers I have used. It has a 40-volt lithium ion battery system that is powerful enough to get the job done, but it's lightweight enough to where I do not feel that it is going to harm my shoulder or extend my arms too much.
Why go cordless?
There are a few benefits to having a cordless weedeater. Some of my favorite benefits include:
No fuel – The fact that you do not have to deal with the initial gasoline smell is a large benefit. For some reason, those fumes make me nauseous. Especially when first firing it up.
No cord – This sounds straightforward enough (cordless, yeah it is right there in the name) but someone who shall not be mentioned (OK…it was me) managed to cut through the cord of the previous trimmer with the trimmer itself. It is also nice that you are not dragging electrical cords through wet grass.
The battery rocks
Someone explain to me why it takes me more than an hour to charge my iPhone, but you can charge the LST136W battery in about half an hour? Because there is no spare battery (more on that later), it is nice that you do not have to wait forever for the battery to charge. Depending on the usage, you can expect the battery to last about 40 minutes.
The PowerCommand dial
Aside from the fact that it has a really cool name, the PowerCommand dial is a very useful addition to this weedeater. It allows you to go full steam ahead (it can handle about 8500 RPM) and take care of some of the tougher weeds in your garden. If you are just doing a bit of 'touching up' in your garden, you can opt for the maximum runtime setting (the weedeater then moves at 6500 RPM), which means that your battery is going to last longer.
Lightweight indeed
Another benefit that I briefly touched upon is the fact that this Black&Decker 40V MAX Lithium String Trimmer is so much lighter than comparable, gasoline-powered models. Yes, you are giving up the ability to work for hours on end, but you are much more flexible for it. You can easily handle it around the edges, making it especially useful around narrow places.
What I did not like
There is no 'perfect' machine. Because it's not fuel-powered, you have to rely on the battery. It would be nice if Black&Decker had included a secondary battery. The lack of a second battery means that you have to remember to take it out and charge it, meaning you cannot work and charge at the same time. Especially if you have a much larger yard than I do, chances are that you might find the battery running out if you forgot to charge it. However, you can buy spare batteries on Amazon, which would eliminate this complaint (Note from Gen: I own the hedge trimmer from this line and love it – and the batteries are interchangeable between the string trimmer, hedger, and blower, so if you have more than one, you will already have a spare that you can put to work!).
My verdict
If you have a massive garden or just do not want to worry about charging the battery all the time, it might not be for you. However, there is a reason that the LST136W receives glowing reviews from other people (and why I keep bothering my neighbor for his). It's lightweight, easy to maneuver, doesn't have that incessant vibration that gas-powered ones do, and is comfortable to use.
If you want a quality electric string trimmer, the Black and Decker 40V MAX Lithium String Trimmer is a great option at a decent price. You will be surprised how quickly you are going to go through the weeds with these. Whether you need a new one or just want to replace a bulky gas-powered option, I would definitely recommend picking up one of these trimmers (or, just find a neighbor that has one!).
Buy the Black and Decker 40V MAX Lithium Cordless String Trimmer (LST136W) here: Amazon.com